FTP/FTPS/FTPES/SFTP Synchronisation
The best sync tool I ever used
BestSync is one of the best sync tools available at this point. It has some of the most important characteristics: it is fast, reliable, safe, easy to use and understand and affordable.
------Reviewed by famouswhy.com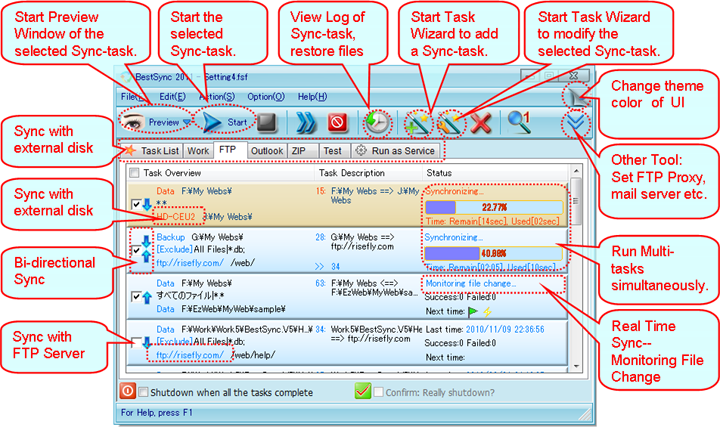 (BestSync Main Window)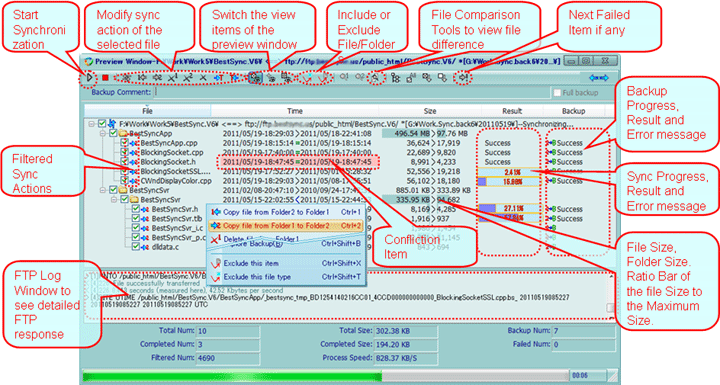 (BestSync Preview Window)
A File Backup, File Synchronization, File Copy Tool
Super fast! Save your time.
Super effective! Save your money.
BestSync is an easy-to-use yet powerful and reliable file synchronisation software. It can be used to synchronise files with and backup file to/from FTP/FTPS/SFTP server, WebDAV collection, Amazon S3 Bucket, Google Storage, Windows Azure, Rackspace Cloud Files, Microsoft SkyDrive, Google Drive, DropBox, ZIP archive, Net Drive, USB removable drive etc.
Before synchronising, BestSync makes backs up all the files on your computer that will be replaced or deleted during the synchronisation. This is the unique and most important feature of BestSync when synchronising from multiple locations. In this way, original files from all stages can be easily restored, So by using BestSync instead of any other synchronisation software, you don't have to worry about losing files at any update stage.
FTP Synchronization/FTPS Synchronization/SFTP Synchronization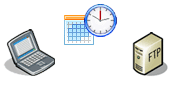 BestSync can download/upload only changed files from/to FTP server by flexible schedule, support FTPS(FTP over TLS/SSL),SFTP (SSH File Transfer Protocol), support compression and encryption while synchronising file. BestSync may be the fastest FTP Synchronization Software in the world. BestSync can download and upload multiple files at the same time, and can download a large huge file in multiple segments through multiple sessions. BestSync can resume the file transfer from the last breakpoint to ensure that large files are successfully transferred in a specified time. BestSync also supports FTP proxy servers, allowing business users to synchronise files behind the firewall. More detailed features...
Other Synchronisation Features
For other synchronisation features, such as synchronising with ZIP archives, network storage, WebDAV servers, Amazon S3 storage, Google Storage, USB local storage, Outlook email etc, please see this page.